2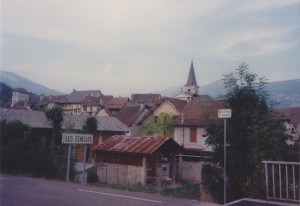 5 years ago(!) today,  I was in a small town in France where I spent a month with a host family. It was one of the most fun experiences of my life.
I recently found my mementos from that summer. I transcribed the photos and scanned the photos. Thank you to the Vial family for such a memorable summer.
July 3rd
It's 11:42 in Queens. I'm watching Arsenio Hall. I should be over the Atlantic Ocean by now, but the Paris airline workers' strike has kept me here in the Hilton-JFK Plaza Hotel. I've met innumerable people today from Vermont to Nebraska. Staying in my room is Eric, a kid from Rockford, Illinois named Doug Benton and a guy from South Dakota named Ray Tracy. He's only 18 and he owns his own house and 5 acres of land. He has so many stories that we can hardly believe. My plane leaves at 9:30 tomorrow morning. I can't even see NYC. I spent about 3 hours sitting on the airport floor talking with some people from Tennessee, a girl from Mason called Monica and a girl from Hopkinton. The flight from Boston was fine. I talked to a chaperone and played poker with a kid, Dave, from Massachusetts. It's midnight now and I have to be on a bus for 7:00. Hopefully I'll be writing somewhere besides a hotel in Paris.
July 4th
It's now 12:36 am and I'm on a bus. When we landed in Paris at Charles de Gaulle it was already 10:00. I can understand that these Nacel people are frustrated and confused from all the changes that had to be made because of the strike, but I think they should at least inform us of what's going on. The only way you find out things here is by rumor. When they do talk to you they speak in French! I'm here to learn French, but I don't know that much yet and I don't want to flub things up any more than they already are just because I didn't understand something they said.
Anyway, I'm on the right bus now. A bus driver almost ran over a few people and their baggage a little while ago. He's just one example of the insanity around here. I said goodbye to Eric as he took another bus and I've met a girl from Baltimore named Lori. Her plane left yesterday and since we were 12 hours late, she and some others had to tour Paris in a bus for 11 hours. It's 0:48 hours Paris time now and I know I won't be able to sleep. I'm not every sure if my family has been contacted and know when to meet me tomorrow… err  today. The food the plane was exotic and non-heated. I should be sleeping in Les Échelles right now. To sum it all up, this is great.
July 5th
It's 11:14 and I'm about to set a trip record for the earliest time of the sleeping. After about 14 hours on a bus, I finally managed to make it where I was supposed to be yesterday. Everybody here is nice and I'm already learning lots of French. So far I've been mostly recalling what I know, but soon I will have that down and can concentrate on building my vocabulary. I ate breakfast this morning at 2:00 am and 7:00 am. We solved the mystery of the bars on the bus and were awarded with flat surface to sleep on. I've almost never been so tired. I fell asleep at 6:30 pm and woke up at 8:00 to find that they had postponed dinner for me. I met a kid from Edmonton, Canada this morning and got to know Lori really well. Right now this bed is the most comfortable thing I've been in for 3 days. My room is Olivier's room and he has taken the guest bedroom. I hope tomorrow will be very productive since I will be finally refreshed.
July 6th
Last night I slept for 12 hours. I got up and had cereal. Today I want swimming, played a lot of ping pong and met some of Olivier's friends at a soccer game. I didn't know it until I got there that the game was between the girls soccer team and their mothers. There was another game after between the boys and their fathers and at the end a trophy cup was given to the boys. I just listened mostly to Olivier's friends. Occasionally they would collaborate to talk to me in English. I'm starting to be able to separate their words in normal speech. For translation it will be a while. Everything I have ever learned about French is slowly coming back. Other things happened but I'm tired and I want to get up before 10.
(A balloon is taped to the page)
Stéphanie Mollard gave this to me at the soccer game.
July 7th
Well, another day gone. Didn't do much. This morning Olivier had a swim meet. He came home about 1 o'clock. We went to a supermarket. It's not much different than in America. We played a little tennis but it was not much fun because we're both terrible.
Tomorrow we all will go to Lake Geneva (I think) if it's nice. Monday, Olivier, 12 of his friends and I will go swimming, then play tennis and the we will all return to Olivier's house. It should be fun. Wednesday we're going to see the Tour de France. Little Nicolas reminds me of Calvin of Calvin and Hobbes. He's always getting into trouble but he's smart. Yesterday Olivier's friend grabbed him to stop him from throwing a rock. Nicolas spit right in his face! I would have never thought to that. That kid doesn't stop until he gets hurt. He has scabs on his knees to prove it.
July 8th
I was wrong. We weren't going to go Lake Geneva. We went to Lake Annecy. We weren't going to go when the weather was not so good this morning but it cleared up and we went.  By the time we got there every Frenchman on the west side of the Alps was already there. It was just a big lake with too many boats, restaurants, hotels and tourist traps.
We rented a paddle boat and then walked around. We ate at a restaurant on another lake on the way back. They served Coke just like wine with a bottle and a glass. The French can give class to the most simple things. The main dish was a pile about 4 inches high of 1 to 2 inch intact and fried fish. They weren't bad, but the sound of their osteichthyan skeletons crunching my mouth was not appetizing. One challenge I have yet to conquer is to finish a meal before any of one of the Vials. I have a paper that says the French like to take their time eating. Not this family! I estimate there was about three hundred fish on that plate. I ate all but about 30, not because I was sick, but because I was full.
Tomorrow I'm going to be with Olivier's friends.
Je m'everveille si ils connaissent 'le bat du poulet'!
July 9th
It's only 9:30 but I'm about to fall asleep. It's still very much light outside here. We went swimming, ate, played tennis, went swimming again and ate again. I met all his friends and we had a lot of fun. I'm really tired. All the French still think that Japanese means cheap and Americans hate the Russians. I'd tell them but I wouldn't want someone to tell me that something I believed for all my life was wrong. I'm starting to talk to myself in English.
July 10th
Didn't do much of anything today. I watched lots of TV and went out to buy postcards. My French seems to be improving greatly. Olivier's aunt and uncle ate over. I seemed to be the center of the conversation between them and Mr. and Mrs. Vial because when I finally came into the room where they were, the gifts I gave to the Vials were spread across the room. They asked me many questions and I understood all of them except one about old people, young people, French people and bartenders. C'est dommage!
July 11th
Today was weird. This morning I went to the pool to meet Olivier's friends again and they weren't there. Olivier never told me why. Then we played poker with popcorn. Later we went to the field by the pool where a bunch of younger children were gathered. Before I realized it, I was in a practice for water ballet. We went over the steps and then tried it in the water. I almost drowned. I don't know how the smaller kids survived. It wouldn't be so hard if we didn't have to hold one hand up the whole time to carry a stupid flag. But I guess it wouldn't be much of a display. I guess I'm going to be in some kind of festival at the pool on the 27th. I had no idea. Later Olivier, Cédric, Mrs. Vial and I went somewhere in the mountains to a place called the Grand Chartreuse. It wasn't the actual place but it showed the history of the monks praying in solitude. The real place was up higher in the mountains and was like a little village. 40 monks still live there.
One fact they demonstrated proudly was that the Chartreuse wine was invented there. We went to a town nearby and had some ice cream. Everybody else had ordered and the waiter looked at me. I read off the first thing I saw on the menu. When it came I found out very quickly that it had lots of alcohol in it. I read the menu and it had Chantilly, some liquor that starts with 'Am' and of course, Chartreuse. It was very strong. I barely finished the creme on top. I still have a headache from it. After that we went to some town far away where they made the Chartreuse. I had to leave the window open in the car to get air to keep from throwing up. Water ballet and alcoholic monks. France is weird!
July 12th
Today started off pretty boring. Olivier had an ear infection and couldn't go to swimming practice. We watched a couple of cheap Japanese cartoons dubbed in French and then we watched Robocop, also dubbed in French. Interesting. After we had lunch, Olivier, Cédric and I went with Stéphanie and Natalie (Olivier's friends) to sell tickets for the water festival on the 27th.
We went door to door to the people they knew and then in some of the little shops. We were out about 4 hours and we covered most of Les Échelles and Entre-deux-Guiers. We sold only 8 tickets. But it was a lot of fun romping around the towns. After that we all returned to Olivier's house and watched Back to School dubbed in French.
This evening I got a call from my Nacel rep and he said we're going to leave on the 30th and stay a night in Paris. I have to get up early tomorrow morning because I'm going to a swim meet.
July 13th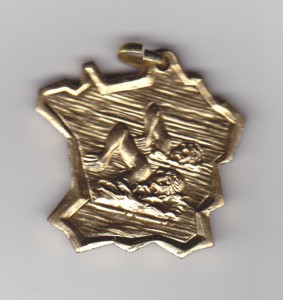 I got this from a kid who gave it to me as a souvenir. I don't think he won it.
This morning we got up early and hopped on a bus to some other town for the swim meet. I thought those mountain roads were scary enough before I traveled on them in a bus. The meet was nothing really special. I played cards and watched the meet. I've been noticing that the boys in the Club Tritons have take a liking to me. Before I even knew any of them they came up to me and talked to me as if I've known them forever.  They really love the United States here. After awhile the boys were flocked around me and barraging me with questions. It was pretty weird. Nothing else really happened after that. We came home, ate, watched a movie, rented some movies and now I'm about to fall asleep. Tomorrow should be pretty wild. We're going to see the Tour de France in the morning and afternoon, then fireworks at night because it's Bastille Day. Quite the dose of French culture!
July 14th
Today's Bastille Day. I saw the Tour de France. I went to this small castle made of seashells. I saw some fireworks. I went to a carnival and danced. It's now 2:17 am. I just got home. I'm dead.
July 15th
I got up at noon today, ate lunch and went for a bike ride with Olivier.  I played mini golf and went to another dance.
July 16th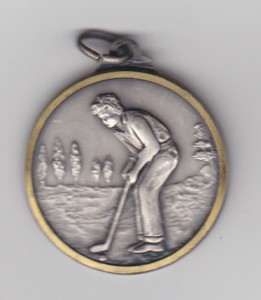 I'm in pain right now. I hate my shoes. two days ago I wore them daringly. I didn't know that we were going to walk all over town. My heels now bear flaming red wounds. Walking is painful. Ironically, running isn't. Maybe it's a sign. I want to run because my muscle mass has noticeably decreased. I'm afraid of the narrow roads and the speeds the French drivers go though. And I don't want to stink for days before I can take a shower. Anyway, today I played the worst mini golf of my life with Cédric and one of Olivier's friends and won a 1st place medal for it. I guess there was a tournament for 3 player teams.
I can now separate the words in sentences when people talk. All I need to do now is learn about 5000 French words.
July 17th
I'm in a different kind of pain tonight. I got up this morning with a headache. Throughout the day it has become worse and now I feel bad all over. We went to Chambery today for Olivier's dentist appointment. I bought a pair of Vuarnets which made me feel a little bit better. It was a fun day but I felt terrible though.
July 18th
Pretty bad day. I work up at five with a bad fever. I couldn't sleep for an hour. That pretty much sums up the day. I slept, got up, slept, got up, etc. I missed water ballet practice because I was feeling so bad. A doctor came by to look at Olivier's ears and diagnosed me while he was here. He just told me to take some common medication and I'll be better in a few days. Today I must have taken at least 10 pills.
July 19th
A lot happened today. I took a shower this morning after I woke up feeling much better. Then Natalie and Stéphanie came over and we all went to distribute more posters for the Club Tritons Festival. Later they came over again and we rented a movie. After that we played some Nintendo and now Cédric idolizes me as Video God, especially in Super Mario Brothers.
For supper, their aunt and uncle came and their grandmother also. The first thing they all said to me was "Ca va mieux?" Tomorrow I'm going to Olivier's friend David's house for something like Olivier had. I'm really glad this sickness didn't stay around to ruin my weekend.
July 20th
It's late. Very late. Quick day summary:
Got up at 9:00, went to David's vacation house in the hills
We walked to a lake beach nearby
Came home
Maybe I'll expand tomorrow
At one point, people were trying out some people's motorcycles. They started with one that was more of a moped then a motorcycle and people took turns riding it up and down the hillside road. After a while a new bike appeared. It was white and falsely bore the English word 'racing' on it. Both of them went out and sure enough, after a while they started racing. Natalie and David went out, Natalie on the white. They were gone for a long time. Finally David came back. I don't know what he said but all I heard was gasps and 'puissant!'s and I understood. Natalie came back after a while with a large bruise on the right side of her head and small scrapes on her knees, shoulder and arm. The bike didn't come back for a while. When it did, all I saw was a few scratches and nicks. The main focus was on the bike's damage.
July 21st
Got up early and went to another swim meet. Stéphanie and some others were trying to get me to compete. It was fun but my nose looks like it has a 2nd degree burn. Later Stéphanie and Natalie came over and we played a game somewhat like Monopoly.
That night we ate supper at Olivier's aunt's house. The grandmother lives there. So do their 2 sons, 1 of which has a pet rabbit, lots of hair and I was afraid of at first. They all live in this large house near the center of town. We ate some things I could not name that were in long shreds and then the main course came. It was grilled sardines. Not too bad, but I hated the smell. Dessert was pineapple ice cream packed into hollow pineapples. There was a little festival at the school after and we went and danced.
I was very tired by the time we left and I started to sing Fish Heads. I can't believe how much they loved it. I wonder how it popped into my mind!
July 22nd
Woke up a noon and couldn't actually function until about 3:00. I got into a club competition on the Club Tritons team. It was a Double Dare kind of thing and our team won every event. There was another dance and I can't keep them from spontaneously screaming "Feeling Groovy" or "Fish Heads". Someone told me today that I look like Greg LeMond. I'm very tired once again. Tomorrow I'm going swimming all day.
July 23rd
Went to the pool today. I swam, ate and improved my French. Olivier was there passing out the baskets for people to put their clothes in. Every once in a while he'd pay his brother and jump into the pool. Also there today was Olivier's cousin Aurélie (or something like that). I had met her before at 3 dances.
Today was Vial family haircut day. I've had a perpetual 'coup de soleil' since I've got here and today was no exception.
I made them some Jello today and they just seemed to stare at it. I'm anxious to see if they like it when it's ready tomorrow. This weekend should be unbelievable. Dances three nights in a row.
July 24th
This morning we went to the pool but it wasn't too nice out. The water was great though and we swam for quite a while. We went out and distributed some more papers advertising the festival at the pool. I finally sent out my postcards and cashed some traveller's checks.
They loved the Jello and one of Olivier's friends, Alexander, ate at least half the batch. I made some more this afternoon. Tomorrow I'm going way up into the mountains to see a glacier and do who knows what. I'm leaving now in less than a week.
July 25th
It's been quite the killer day. We got up early and drove 4 hours to Chamonix where Mont Blanc is located. We took a little train up the mountain to see a glacier and went inside a cavern carved into the glacier. Later we took a few rides down the French version of the alpine slide. It's actually possible to fly off those things. I came close a few times. After that we took the 14km Mont Blanc tunnel to Italy. Those border guards don't do a good job at all. We crossed back into France and stopped at a place to see the legendary St. Bernards of the Alps. I never really thought they existed before. I had only seen them in cartoons. Finally we stopped at a pizzeria to eat and arrived home at 11:00.
Tomorrow
 Morning: swim meet at home
 Afternoon: water ballet (I might get out of it. I hope.)
 Night: Dance at the pool
There's too may hours of daylight here.
July 26th
The first thing that came to my mind this morning when I work up was the swim meet. They left without me and it was already 10:00. I got ready quickly and went down to the pool. It was pretty boring. Nothing happened today until about 6:00. We had water ballet practice. I found out that we're going to carry something like torches!
Tonight we went to a nice restaurant and ate some frogs. They were well seasoned and didn't taste bad at all. The only thing that was disgusting was that just finishing Biology and dissecting frogs, I could name the muscles as I ate them. I can finally express myself in French. I talked to Olivier and his parents after supper. I just finished talking to Cédric about school and American customs for about an hour. It seems like 2 days ago nobody understood anything I said. Tomorrow will be a big day. There is the water festival and the 3 day dance marathon begins. I'm going to try to sleep until lunch tomorrow.
July 27th
I woke up as late as possible this morning knowing that this weekend will be very exhaustive. At 2:00 we went to water ballet practice. We are getting better but I didn't think we were good enough to perform. I unknowingly got into a practice for a game to be played at the festival but I didn't really want to do it and when the time came for it I just kept eating my cold roast beef. They replaced me and I never heard anything about it. The water ballet came out pretty well. There were no lights in the place except for the small torches we silently carried. They played some music and the whole effect was pretty good. It amused me so much that I forgot about how I was desperately trying to stay above water. After that there were some wimpy fireworks and a dance.
It was set up so we danced in the 2 foot deep kiddie pool. (It was empty of course.) They had the usual local disc jokey and equipment by 'Decibel Plus'. It was a good time and I also learned a lot.
July 28th
I got up as late as possible again today. Some family friends stopped by and joined us for dinner.  Amaury came back from vacation and came over. I finally went out and bought some souvenirs. I still don't know when I'm getting home. I tried calling my chaperone but I got a busy signal and then no one was home. My parents called today. Olivier says that his mother has some stuff on when I'm leaving but I'm not sure it conforms to the changes that have occurred.
We went to another festival today at St. Christophe, a small village behind Entre-deux-Guiers. I was surprised at the amount of people there. They had fireworks and then we did absolutely nothing. We just hung around the bumper cars. We watched the dance later. There was a band with an accordion in it and all the music was old. It was funny watching 100 drunken Frenchmen trying to smoke and form a Congo line at the same time. Raphael slept here last night and tonight Ameury is here. It's ridiculously late and tomorrow (later today) I will get ready to leave.
July 29th
The climax of my trip couldn't have come at a better time.
It rained today for the 1st time since I've been here. it rained pretty hard all day. The rain finally stopped in time for the dance at Miribel-les-Échelles. It didn't really matter though because it was inside a small auditorium. It had a wooded floor that you could feel moving. I didn't think it would hold all of us.
At first I thought I wasn't going to have a good last night with all the people I've met here. The music the DJ played was bad and it was too crowded inside. Finally I started to have a good time, then the whispering started. All the people I had met started whispering to each other and looking back at me. I would smile and they'd giggle their way back into their whispering circle. I guessed it had something to do with my last night here. I shielded their giggles off with smiles and pathetic smirks. The only thing they told me was "c'est un surprise" and "c'est rien mauvais". Finally a song ended and the DJ started blabbing something I couldn't quite understand. They pointed at him and jumped up and and down as I heard "Jeff" and the intro to "Blue Sky Mining". Someone caught me from behind and threw me up in the air.
I said 'merci' again as the song ended and Peter Garrett drowned his last syllable. Soon after the dance ended. It was almost 2:00 am. It was glad to get out of that small room. It was hot and the smoke was reaching Chez-Vachon density. But I didn't really want to go. I kissed them and shook their hands goodbye – most likely forever. If I ever do return I still could never match this night.
July 30th
Today I moved on to greater things. I left my family at Chambery on a train bound for Lyon. It was a little sad but I was glad to be on my way home. Amaury showed up at the train station just before I left. I don't know how he got there. The first person I met was ironically from Concord. I talked with him and a kid from Idaho, Jason Walker. We got off at Lyon and boarded the bullet train. It went pretty fast and in two hours it did want the bus took 11 hours.
We were bunked up at this little hotel once we arrived in Paris. The rooms were incredible tiny. Nobody slept. I found Monica from the trip over and I spent most of the night in her room with 2 or 3 other people. We just talked and played cards. At about 4:30 I fell asleep for about an hour. That was the only sleep I got. I can't find Eric. I'm wondering if he went home early for some reason. Today I went from tiny Les Échelles to a bigger town Chambery. Then I went to a much bigger city, Lyon. From there I took the fastest train in the world to one of the largest cities of the world. Tomorrow I'm going to New York by the largest plane in the world. Afterwards I'll go to a smaller city, Boston, and then finally to Lake Winnepocket.