I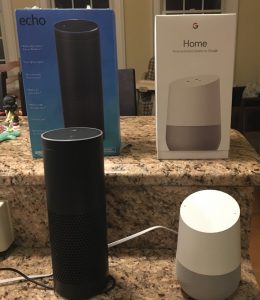 decided to get a voice assistant device for our family for Christmas this year. The problem was I couldn't decide which one to get, the Amazon Echo or the Google Home. Lots of people love their Echo, but the Google Home is the new device on the block and shows a lot of promise.
With 4 iPhones, 2 MacBook Pros, 3 iPads and Apple TV, we're really bought into the Apple ecosystem so an Apple device would likely integrate better into our music, calendar and personal data, but Apple has yet to release a competing device.
With Christmas return policies extended through January 15, I decided to buy both the Amazon Echo and the Google Home on Black Friday and set them both up for an extended trial. In January, one of them will go back to the store. Here's my comparison of them so far.
Branding
There's 4 names to know for each: the device's name, the app's name, the voice assistant's name, and the companies behind it. For the Echo, it's Echo, Alexa, Alexa, and Amazon. For the Home, it's Google Home, Google Home, Google Assistant, and Google. Amazon's branding is confusing. No one remembers the Echo's name, so people call it an "Alexa", even when they have the Echo, Tap and Dot devices. While "Google Home" is a pretty broad name for a limited device, it is clearer.
WINNER: Home
Price
Both are on sale right now. The Echo is $129 (from $179) and the Home is $99 (from $129). I used a $25 Visa Checkout promotion on both, so they were $105 and $75.
WINNER: Home
Packaging
The Echo's packaging is pretty standard. A sleeve comes off and the box tilts open. The Home also has a sleeve, but then it opens up diagonally in the middle of the box. It feels much more like Apple packaging, but it also reeked of something that smelled like rubbing alcohol. Either way, you'll probably throw away the packaging soon after.
WINNER: Home
Design
The Echo is a tall black or white cylinder with ring of blue lights around the top edge. The Home is a little more rotund, but about half the size of the Echo with a slanted top. The Home has a circle of multi-color lights along the diagonal face. The Home looks friendlier and less out of place in a kitchen.
WINNER: Home
Setup
Both require you to download an app to your iOS or Android device. The Home's setup was easy and slick. The Echo makes you to connect to an ad-hoc wireless network which requires you to leave the app and go into your device settings.
WINNER: Home
Sound
Neither are great speakers. Home sounds a little more full with more bass than the Echo. Echo's speaker faces down so it's omni-directional. The home's tweeter faces out from the front, so if you put it in the middle of a room, it may not sound great from all angles.
WINNER: Home
Volume Control
Both have voice and touch volume control. You control the Home by touching and moving in a circle. The top of of the Echo rotates to control the volume, but it took me a few days to notice that. Since you can grab the Echo from any direction and turn, it's slightly easier.
WINNER: Echo
Voice Activation
Echo responds to "Alexa". Home responds to "OK Google" or "Hey Google". Of the latter two, "Hey Google" is easier to say as it's one syllable shorter. "OK Google" is awkward as it has 4 syllables alternating between high and low. "Alexa" is much more natural to say and you don't feel like a corporate stooge.
WINNER: Echo
  
Activation Confirmation
The voice recognition on both devices is impressive, even across a room when they're playing music. The lights on both devices light up when they hear their activation words so you know they're listening. The Echo lights up all the way around the rim and glows brighter in the direction of the the voice. Because the Home's face is slanted, you can't see the lights from all directions, which is unfortunate.
WINNER: Echo
Voice Quality
The Echo's pronunciations sound more "human" to me, but the pacing of the words in a sentence speaks sounds robotic. The Home's voice sounds slightly worse to me, but the pacing is much better.
WINNER: Tie
On Demand Music
Both want you to subscribe to a music service. For some reason, Google has two on-demand music services, YouTube Red and Google Play Music. The Home includes 6 months of YouTube Red which also includes Google Play Music. If you have Amazon Prime, you have on demand access to a couple million songs. If you subscribe to Amazon Music Unlimited, ($8/mo for Prime Members, $10 otherwise) you get tens of millions of songs on demand. If you just want expanded on-demand music on your echo, you can subscribe to a $4/mo service. Both also support Spotify which is also $10/mo.
WINNER: Echo if you have Amazon Prime, otherwise Home for both on-demand music and ad-free YouTube videos.
Owned Music
Amazon and Google allow you to upload your music collection to their services. Google Play allows up to 50,000 songs for free. Amazon Music only allows 250 uploaded songs for free. For $25 a year, you can upload up to 250,000. Although you can upload a lot more songs to Google Play, you currently cannot play songs on demand from it. You can only songs by playlist, which can be synced from iTunes. I expect this is a short-term limitation.
WINNER: Home
Radio and Podcasts
We used to listen to the radio (usually NPR) or podcasts while working in the kitchen using our phones. The Echo and Home can both play these, hands-free, with much better sound quality. They both use Tunein to play terrestrial radio and podcasts and it works fine.
WINNER: Tie
Integrations
This one is no contest. The Echo has been around for 2 years longer. It has an App Store (it calls them "skills") with hundreds of user-created apps. Most are terrible, but some like the Choose Your Own Adventure-reminicent Magic Door are wonderful. Google's integrations are pretty limited right now and they have not yet opened up its APIs, but plans to do so in December.
WINNER: Echo
  
App
The Google Home app is designed to control both the Google Home, Chromecast and Android TV devices. As such, it opens up to a directory of YouTube videos which makes no sense if you don't have a Chromecast device. Settings and other configuration are buried. Both give you more info on your recent queries and allow you to rate the recognition quality. The Alexa app is focused on the device only.
WINNER: Echo
Shopping List
Both have built in shopping list functionality. Alexa has its own list built into main menu of the Alexa app, but only available there. The Home saves shopping list items into a designated list in Google Keep. We use GroceryIQ and keep separate lists per store. Neither device supports multiple lists.
WINNER: Home
Future
The Home is brand new. It currently compares favorably to the Echo in most categories except integrations. Google is just getting started here and if they bring all their services and technology expertise to this platform, they'll be hard to beat. On the other hand, Google has a history of getting bored with products and letting them slowly die. Amazon is clearly committed to Alexa, reportedly selling 5 million of the devices. They've expanded their product line into the Tap and Dot devices. The Echo, like their tablets and readers, are still a trojan horse to get you to tied to Amazon.com shopping and their electronic media (books, music, TV and movies) business. They need Alexa. While Amazon has first-mover's advantage, Google has a lot of resources to apply if they're serious about the Home. This is Google's category to lose if they want it bad enough.
WINNER: Home
To Be Continued
We're still early in evaluating these devices, but it's been fun playing with them so far. I'll add more observations as we explore them further. But if you're considering buying either of these devices for Christmas, I hope you find this guide helpful.