My littermaid broke again this week. One of my cats let me know it was having problems by peeing on the wall right in front me. He's not good at subtlety.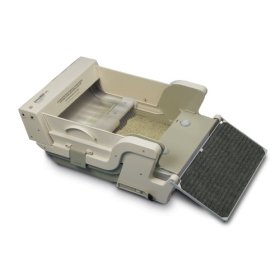 Unfortunately it wasn't the same problem as last time. Actually it was the opposite. It would go forward, but not back.
One of the first things I figured out was that it's not that hard to take the moving arm out. Just pull the sides apart a bit and you can angle it out. That allowed me to move it back to the middle and observe it moving forward but not back.
I checked the switches at the front that were the problem last time and they were clear. Depressing them made it stop moving forward, but nothing would make it move back.
Since groping around blindly in a dirty litter box is one of my favorite things to do, I poked around and found two more switches in the back of the track. There's one on each side and guess what? The one on the left was in a different position than the one on the right. In fact, it looks like some litter got stuck in there and was keeping it down. If either of those switches is down, the arm stops moving back, assuming it's all the way back.
Getting to the sensor was interesting. It didn't seem to open, so I had to pry it off the inside of the track. In doing so, I damaged it enough to let the switch up again. It went back just fine now. Great!
I put things back together, tested it out (uhh, with my hand, not actually USING it), washed my hands and tools, and declared victory.
If this whole software development thing goes south, perhaps I'll be able to repair automated cat litter boxes for a living.