I've been a happy Littermaid owner for a couple of years now, but lately I've had some bad luck.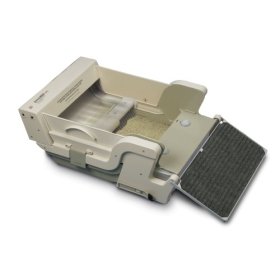 I came home from Thanksgiving last year and found the rake stuck in the middle, not moving at all. My warranty long-expired, I just bought a new one for $70 on sale on Amazon.
The other day I found it stuck again, this time almost in the way back. I emailed the company to get it replaced under warranty. They responded with some cryptic instructions on how to find the model number and date code on it.
While looking for these I discovered a few things:
1) My cats have been pissing ON TOP of the Littermaid, like on where the battery compartment is. I can understand being a little off in your aim, but 3 inches up?
2) When I put in the new unit, I used the old AC adapter. It turns out that the newer one is 1000 mA, not 500 mA. I'm sure it helps to have a little more power when pushing litter. Of course swapping these out did nothing.
3) There are two contacts inside the tracks for the rake, at the very end near the bin. When either of them make contact, the rake reverses and goes back. One one side of mine, there was litter lodged in there, forcing the contact down. I removed that, flipped the power and presto, the rake moved normally again.
Now I'm wondering if that was all that was wrong with my last one.