Don't get me wrong – I love my new MacBook Pro (2.16Ghz, 120GB HD, 2GB RAM, if you care), but there's a few things that annoy me. Some of these things they don't tell you about before you buy it and others just take a while to notice.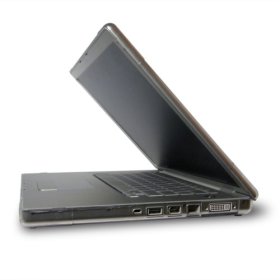 1. Not enough keys. By default, all the function keys work as brightness, sound and keyboard light controls. I'd prefer the opposite. The use the function keys, you have to hold down the 'fn' key, awkwardly placed on the left bottom corner of the keyboard (where the control key should be). Page-Up, Page-Down, Home and End are also missing. I used these all the time to scroll. Now I have to use Fn-Up, Fn-Down, etc. But the two finger scroll on the trackpad isn't too bad.
2. Power management. I really hate the fact that closing the lid turns almost everything off. Opening it again requires you to reconnect to the network and applications to reconnect as well. At work, this means me typing in two passwords and a 14-digit passcode to get access to my email again.
What I really want is for the machine to do nothing when I close the lid, then sleep or hibernate when I tell it to. Macs don't have a hibernate mode, but the sleep mode is pretty good. It consumes almost no power at all. There is a Hibernate-like "Safe Sleep" mode, but it only kicks in when your battery is completely dead.
3. Power options. My work-provided laptop allows you to swap out the DVD drive (which I hardly use) for an extra battery. This allowed me to do 5 hours or more of slugging through meetings. You can't replace the DVD drive in a MacBook, so I'm stuck carrying around a power adapter. The 85-watt MacBook Pro adapters are bigger than the 60-watt MacBook adapters too.
I love the MagSafe connector. For something that you plug in several times a day, it's really quick. The magnet is strong enough that it will pull it into the right spot if you just get the end close. The plug is symmetrical, so you there's no "right side up" either. That said, it's annoying that you can't buy one except from Apple. I love my iGo universal power adapter, but it's useless to me now because I can't get a MagSafe tip for it.
4. The screen doesn't swing back far enough. Now this isn't a problem in the cramped airplane seat I'm currently in, but when the machine is on your lap and you're looking down at it, I'd like it go recline back a few more degrees. My old laptop would go back almost 180 degrees.
5. The case seems easy to damage. I'm not sure how easy it is to scratch, but I feel like I'm going to nick it at any minute. Plastic cases like on the MacBook seem better about this. Thankfully, Santa brought me a hard case for Christmas and now I can throw the machine in a bag without worrying about it.
6. The trackpad button sticks up too much. It's not flush with the rest of the case and it's even a little sharp around the edges.
7. No VGA-out. It's annoying that if I want to give a presentation that I have to carry around one of those silly dongles. I know Steve Jobs hates all things analog, but how about dumping one of those Firewire ports no one uses. I'd even settle for an S-Video out instead.
8. No docking solution. When I sit down at my desk, I need to plug in the DVI, power and USB for keyboard and mouse. As a result, I don't bother unless I'm going to be there for a while. As a consolation, the screen is big enough to work on.
9. No memory card reader. Most PC laptops these days have an SD card reader which is handy for transferring files to a digital camera or Treo. I guess there's some use for the ExpressCard slot.
10. It's not the most stable machine around. It crashes at least once a week, usually after opening or closing the lid. The later updates have helped fix crashes with the wireless networking. Sometimes I just can't get it to wake up after closing the lid and end up rebooting it.
The titanium case PowerBooks/MacBooks have been out for 5 years now, so I'm sure a revamped enclosure will be out soon that will address some of these problems.
In the meantime, my MacBook Pro is wicked fast and fun to use. It's beautiful to look at inside and out and I love having a real Unix environment to use underneath.
It seems that coexisting in a mostly-Windows world has gotten easier over the last few years, partly because of samba file sharing, Java-based applications, cross-platform Firefox and Thunderbird, Apple's own suite of applications like iTunes, iCal and iSync and even the ability to run fast versions of Windows with BootCamp or Parallels. In any case, I'm sure I'll be able to find a few more things to hate about it before it's time to upgrade.