Dear Apple,
iTunes is a pretty nice music app. I have all my MP3s in it. I even use it for podcasts. I have it installed on 4 computers. I've bought songs once or twice from the music store.
I've never bought a music video.
I've never listened to iTunes radio.
I've never bought a TV show.
I've never bought a movie.
I do not own an Apple TV
I do not own an iPhone.
I have 2 iPods, a 3G classic and a shuffle, neither of which can play games.
Given all this,
PLEASE STOP ALERTING ME OF USELESS UPDATES!
Today, the latest ones were iTunes 7.5 and QuickTime 7.3 (which requires a reboot!), neither of which seem to have any features that I can benefit from. Perhaps you could break apart this behemoth called iTunes that seems to do a million things other than play "tunes" and stop nagging me with updates. It seems like every other day I'm being told 4 times about another 100 megabytes of updates which don't do anything but disable people from putting custom ringtones on their iPhones, a feature I don't care about on a product I don't own.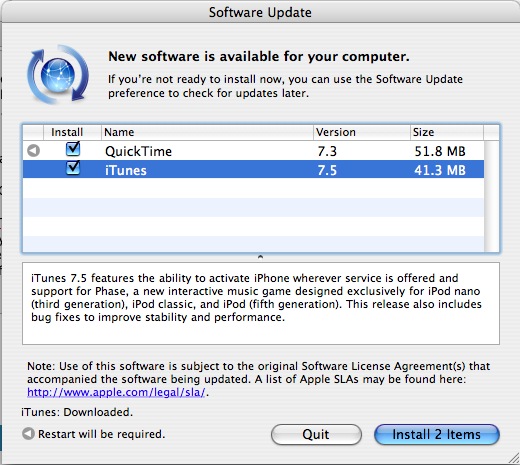 Sincerely,
Jeff Boulter
iTunes curmudgeon