GPS Coordinate Converter, Maps and Info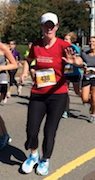 Hello!
I hope you've found this free site useful for the last 9 years!.
I have a favor to ask: In April, my wife is running the Boston Marathon to raise money for the Melanoma Foundation of New England. If you or anyone you know has been affected by cancer, please take a moment to read her story and consider a donation. Thank you!
-Jeff & Anne
boulter.com geocaching <|> comments