Last week, Anne dropped her bag with her MacBook in it on the floor. She didn't think anything of it until hours later when she went to turn on her computer and the LCD display was cracked inside. Lots of scary broken lines appeared with only a small section on the left actually working.
I did some research and found the cheapest way to get this fixed was to buy a replacement screen. I picked one up on eBay for $75 from iReqQ.com. For some reason they sell them for more on their own site (?).
It shipped quickly and I had it on Thursday. I followed the helpful video from iResQ to take the machine apart and install the new screen.
The most difficult part by far was getting the inverter cable plugged in as it's behind the hinge. My Dad helped by pulling the hinge back and keeping the video cable out of the way.
A random magnet fell out of the side when I took out the display. Apparently it's a "sleep magnet" which, when closed with the lid, activates the computer's sleep mode. It took me a while, but I found the spot in the lid where it went in, coming down just to the left of the fn key.
More annoying than difficult was getting all the little clips around the edges back in place. I found it helped to arch them a bit and then spread them back out again once they were in. All in all, it probably took me 2 hours to complete.
While I had it open, I made one little extra modification I read about online. Apples should be red, right?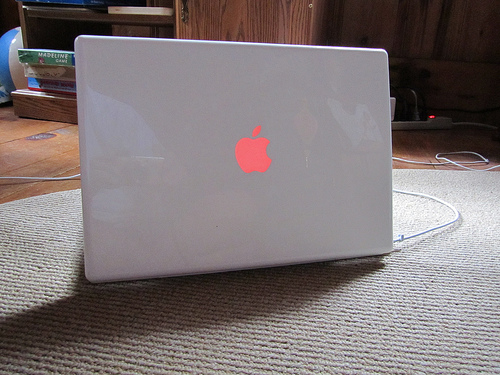 What I was looking for was a piece of cellophane, but we didn't have any. I searched around and found something that worked just as well – a piece of red plastic from a bag of frozen french fries. I cut it to size, taped it in, and now Anne has the coolest MacBook (with working display!) on the block.